421 30th Avenue South, Seattle WA 98144
$1,870,000
Take a Virtual Tour
The Judge Ronald House is reminiscent of Neoclassical Revival style that was influenced by the Beaux Arts movement following the World's Columbian Exposition of 1893.  Neoclassical style was a sub-type of the Eclectic Movement which also fueled earlier classical and Greek Revival styles which was popular in the early part of the nineteenth century. This is an amazing vintage historic home in Seattle.
Special care was taken to restore and modernize the home, while respecting its historic architecture and character.
Every corner of this home has been thoughtfully renovated with respect to the history and architecture.
This home was designated a City of Seattle Landmark by the Landmarks Preservation Board.  You can read the application and criteria on the City of Seattle website.
The kitchen has been modernized with state of the art stainless steel appliances, gas range, granite counters, recessed and period light fixtures, bay window in sweet dining area, period woodwork, French Doors to dining room and also to outdoor deck. Center island and so much storage!
See more amazing before-and-after photos of Michelle Dirkse's fabulous work on Houzz
This home has been modernized for today's living while preserving it's vintage and historic character.
Just a few of the improvements:
*Remodeled kitchen and bathrooms
Full remodel of second floor
Remodel of den
Attic stairs replaced
New furnaces (basement and attic) 2019
New hot water heater 2019
New fence
Fully painted exterior in 2019
New sewer line 2015
Chimney/fireplace repair 2019
Historic and Landmarked Judge Ronald House at 421 30th Ave. S. in Seattle
From the application for Landmark status from the City of Seattle:  "The house is square in plan with a truncated and bellcast hip roof. The exterior is clad in HardiePlank fiber-cement lap siding and the roof is clad primarily in asphalt composition shingles with a small section of tar down cladding on the flat surface where the widow's walk once was. Windows are vinyl sash, including a mix of 12-over-one sash, 9-over-one sash, one-over-one sash, and fixed sash. Most of the central portion of the front façade is behind a two story pedimented portico supported by four fluted columns, each with plinth, base and composite capital. Above the columns rests an architrave-frieze box and wide cornice arrangement fairly correct in terms of the composite order, with dentils and scroll sawn soffit decoration. The porch ceiling is recessed flush with the overhanging soffit. In the triangular recess of the pediment there is a semicircular fanlight with a decorative keystone in the enframement. The pediment is the end of a gable roof covering the portico that continues back with its ridge joining the main roof level with the truncation. There is a corresponding bellcast at the cornice on the gable which has the same overhang and detail as is continued around the main roof. The deck of the portico is at the head of a short stairs that extends across the full width in front. Running in between the outside columns and the front wall of the building is a railing with turned balusters and baserail.Directly behind the outside edges of the two central columns is a rectangular one-story enclosure extending the formal entrance hall a few feet forward from the remaining wall plane. The original leaded transom glass remains above the front door and its sidelights. "
This room can be sitting room, parlor or gracious dining room
Main floor family room, media room, play room or additional dining area
Home originally had 6 + bedrooms but has been reconfigured to current owners tastes, but is easily converted back to 6+ bedroom home.  You can read about the amazing transformation by designer Michelle Dirkse.
You can see more of Michelle Dirkse's amazing transformation in this "before-and-after" video
This amazing home is an opportunity to live in a historic home.  Read more about this home in Gray Magazine.
Judge J.T. Ronald purchased the house on Rainier Street, now called 30th Avenue South, in 1889 and then renovated and expanded it into the unique Neoclassical mansion that you see there today. Renovations were completed by 1904, in time for his daughter, Eva's wedding in June of 1905. According to Ronald's granddaughter (Eva Benson's daughter), Betty Runstad, (1913-2008), this mansion was the hub of cultural and political events in Seattle's early history, as the site of concerts, lectures and meetings. The house has been noted as historically significant in numerous newspaper articles, studies and publications including: Centennial Snapshots: Historic Places around King County from the First Twenty-five Years of Statehood (Lentz, 1991), Where the Washingtonians Lived : Interesting Early Homes and the People Who Built and Lived in Them (Lagehager & McDonald,1969), and listed as "Significant to the City" in Nyberg and Steinbreuck's Madrona, Leschi and Madison Park Inventory of Building and Design Resources (1975, Historic Seattle PDA)Listed in the National Register of Historic Places in 1975, the current owner has undertaken efforts to restore the house and a City of Seattle Landmark Designation would make it possible to further these efforts and better protect the house from future deterioration and historically detrimental alterations.
The National Register of Historic Places is an official listing of historically significant sites and properties throughout the country. While the program is offically part of the National Park Service, U.S. Department of the Interior, the processing and review of applications is done at the state level. National Register listed resources includes districts, sites, buildings, structures, and objects that have been identified and documented as being significant in American history, architecture, archaeology, engineering or culture.  These sites and properties reflect the prehistoric occupation and historical development of our nation, state, and local communities.  Generally these resources are at least 50 years old, however in some cases properties less than 50 can be listed if they have exceptional significance.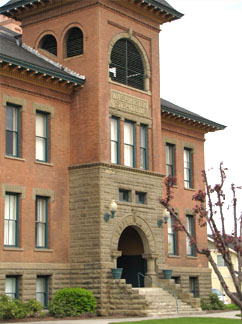 Washington School, Walla Walla – 1901
Listing in the National Register does not, in itself, impose any obligation on the property owner, or restrict the owner's basic right to use and dispose of the property as he or she sees fit. It does, however, encourage the preservation of significant historic resources in four ways:
by formally documenting resources for future study; and
by providing official recognition of the historic significance of the property an encouraging consideration of its historic value in the future development planning; and
by providing consideration regarding activities involving funding, licensing, or permitting by Federal agencies that could result in damage or loss of historic integrity. Redevelopment of a listed property which involves Federal funding, licensing, or permitting is subject to review by the State Historic Preservation officer to ensure that adequate and appropriate consideration is given to the preservation of the qualities for which it was originally listed. This review requirement will also apply to any federally funded, licensed, or permitted activities undertaken by others that could have an effect on the property, and
Making the property eligible for Federal financial incentives (rehabilitation income tax credits) for historic preservation
Judge James T. Ronald first moved to Seattle in 1882 with his wife and daughter as a young attorney; shortly thereafter, becoming the new King County Deputy District Attorney and then mayor in 1892. In 1909, he accepted the governor's appointment to the King County Superior Court, which he served on until he was 94 years old. In his 40 plus years on the bench, Judge Ronald became known for his upstanding character and no-nonsense ethics; his stance against political corruption in Seattle and his observations and actions during the anti-Chinese riots earning him a special place in local and national history. Off the bench, he was instrumental in the movement to build a West Coast highway from Vancouver, B.C. to the Mexican border, and was a proponent of the City purchasing land for public parks. Judge J.T. Ronald purchased the house in the Leschi neighborhood of Seattle in 1889, and then renovated and expanded it into a neoclassical mansion by 1904. According to his decedents, the house became "a hub of cultural and political events in Seattle's early history, as the site of concerts, lectures and meetings."
Incentives for Historic Properties in Seattle